---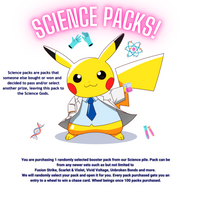 Science packs are packs that someone else bought or won and decided to pass and/or select another prize, leaving this pack to the Science Gods. Their name is written on the pack and set into a pile of Science Packs.
You are purchasing 1 randomly selected booster pack from our Science pile. Pack can be from any newer sets such as but not limited to
Fusion Strike, Scarlet & Violet, Vivid Voltage, Unbroken Bonds and more. 
We will randomly select your pack and open it for you. All packs are set to one price. Every pack purchased gets you an entry on a wheel for a chase card. Wheel begins after every 100 sold.
We cannot promise or guarantee a specific set.